The foundation of each and every organization is manpower and recruiting the right people for your organization can at times be a laborious task. So now the question is that how do you find the best candidates for your organization in an easy and convenient manner? The simple answer to this is – with the help of recruitment software.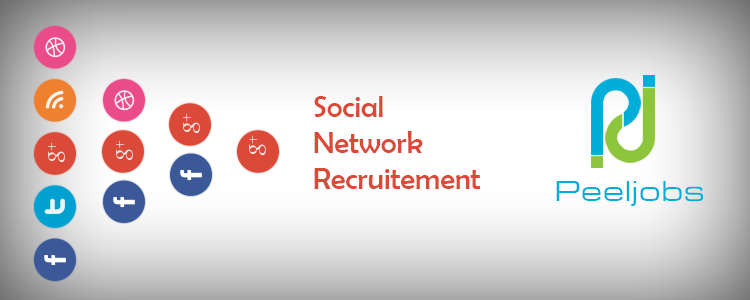 What is a recruitment software?
Recruitment Software also known as an Application Tracking System (ATS) is a tool that enables companies to handle their recruitment needs electronically. They can be used by both large as well as small companies and are very similar to Customer Relationship Management (CRM) systems, but are designed specifically for recruitment tracking purposes.
What does a recruitment software do?
The main job of a recruitment software is to centralize all the information about a company's recruitment efforts in a database. These software's are basically designed to add structure to the processing of Resumes and application information. The applicant data is either collected through internal applications located on the company's website or from applicants on job boards.
Now you don't have to worry about investing a lot of money into buying one as PeelJobs provides you with recruitment software that is entirely free of cost. Yes, you heard that right. Our free recruiting software is full of loads of features and shall cater to all your needs. Before we jump to highlighting the features of our recruitment software let us first discuss the challenges faced by recruiters in their daily recruitment process.
The main challenges faced by recruiters are –
Gathering the details of candidates from various job portals and social media channels.

Tracking the status of the candidate.

Maintaining a huge database and also searching for the desired candidates within the database.

Keeping a track of activities.
Keeping all these challenges in mind, the software by PeelJobs aims to provide a solution to the recruiters. Now let us discuss the features offered by our software -
Unlimited free job posting

Posting a job on the portal as well as on social media

Post the jobs from the dashboard itself

Notifications whenever a candidate applies for a job

Uploading the details of bulk candidates

Easily manage candidates profiles

A complete application tracking system that allows you to track candidate's status

Customized form for each job opening

Extract the details from the candidate's resume quite easily

Excellent User Interface

Highly customizable

Unlimited support and consultation

Secure and reliable
Further, let us discuss that how a recruitment software from PeelJobs shall help in running your business effectively –
Consolidates data - The profile of the employee and all the other relevant information required by you is consolidated by the software at one place.
Tracking facility – The application tracking software allows you to track the information of the candidates easily. It also allows you to track the status of the candidate's application.
Improves hiring process – The Software saves you a lot of time and does better screening of candidates and thus improves the hiring process.
Saves time – The biggest advantage of a recruitment software is that since it is completely automated hence it saves the recruiters a lot of time.
Saves money – Recruitment software provided by Peeljobs is completely free of cost, hence, it benefits you and also helps you in saving a lot of money.
Intelligent business – The software helps you in carrying out an intelligent business process by saving you time, money and providing you with the best talent in the market.
Usage – The software has easy navigation features which make it possible for you to work on it without getting stuck up.
Communication – The software is extremely ideal for communicating with candidates effectively.
PeelJob's hiring software with free social hiring tool shall serve your organization very well and will also help you in hiring the right candidates easily. Contact us today to gain more insights on this subject matter.